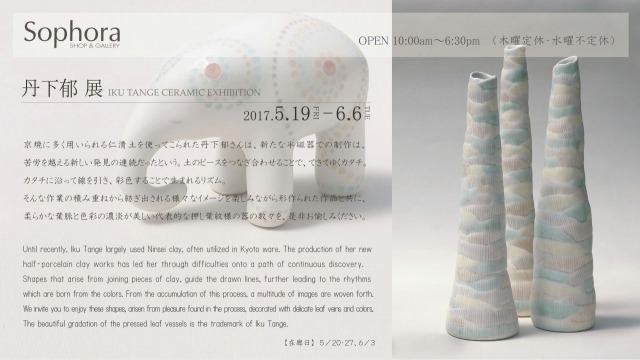 ※5/17・18 は展示替えの為、臨時休業いたします
.
Next!!【 丹下郁 展 】
IKU TANGE CERAMIC EXHIBITION
2017.5.19 (Fri)- 6.6(Tue)
10:00-18:30(最終日17:30迄)【木曜定休】
.
【在廊日】
5/20・27、6/3
.
.
京焼に多く用いられる仁清土を使ってこられた丹下郁さんは、新たな半磁器での制作は、苦労を越える新しい発見の連続だったという。
土のピースをつなぎ合わせることで、できてゆくカタチ。
カタチに沿って線を引き、彩色することで生まれるリズム。
そんな作業の積み重ねから紡ぎ出される様々なイメージを楽しみながら形作られた作品と共に、柔らかな葉脈と色彩の濃淡が美しい代表的な押し葉紋様の器の数々を、是非お愉しみください。
.
.
Until recently, Iku Tange largely used Ninsei clay, often utilized in Kyoto ware. The production of her new half-porcelain clay works has led her through difficulties onto a path of continuous discovery.
Shapes that arise from joining pieces of clay, guide the drawn lines, further leading to the rhythms which are born from the colors.
From the accumulation of this process, a multitude of images are woven forth. We invite you to enjoy these shapes, arisen from pleasure found in the process, decorated with delicate leaf veins and colors. The beautiful gradation of the pressed leaf vessels is the trademark of Iku Tange.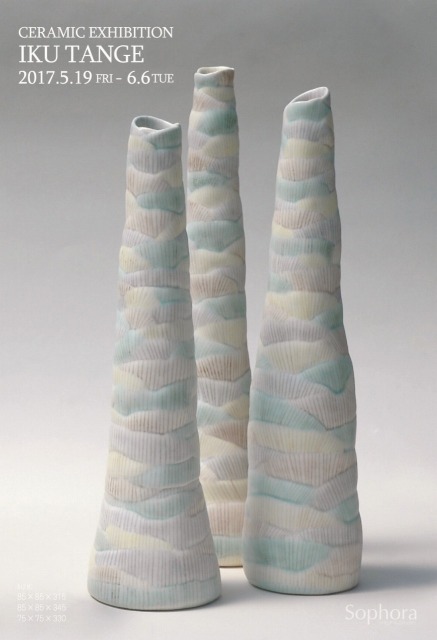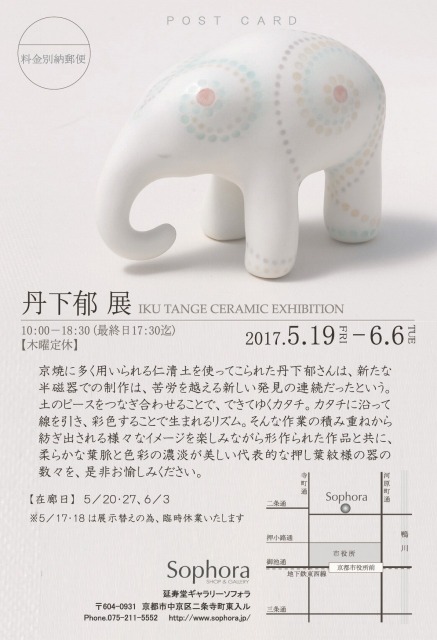 JUGEMテーマ:アート、デザイン、日々 / Art, Design, LIFE